184 Napier Street, South Melbourne, 3205
Victoria, AUSTRALIA
Tel: 61-3-9699 8844

Authorised Australian Distributor for
FIBER OPTICAL RS232/422 CONVERTER
>> CLICK HERE <<
for current price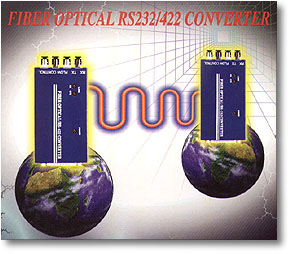 The fiber optical converter allows the RS232 or RS422 input signals to be converted to fiber optic signals that for long distance, high speed, and high quality communication.
There are 3 LED indicators correspond to RxD, CTS, and power signals. A 9V, 500mA power adapter is provided in the package. To order the fiber optic converter, please select on of DTE or DCE version for signal connection.
Features:
Provides RS232 or RS422 signals.
Provides DTE or DCE mode signals.
One pair (two converters) is needed for two connected devices.
Communication distance up to 1500m.
Communication speed up to 5Mbps.
Operation temperature from 0C to 55C.
ST type fiber optic connector.
Suitable for three different optic fiber size: 50/125um, 62.5/125um, 100/140um.
Suitable for multi-mode cable.
HFBR-2416 fiber optic receiver and HFBR-1414 fiber optic transmitter are used.
Package contains:

Fiber optical converter.
9V, 500mA power adapter
User manual.
DB25 male to DB25 female cable.

1. Fiber optic

2. RS-232 connector for DTE mode

Pin #
DB25 Signal Name
RS-232C

Name

Signal

Direction

1
Chassis Ground (GND)
AA
Common
2
Transmit Data (TxD)
BA
Output
3
Receive Data (R x D)
BB
Input
4
Request to Send (RTS)
CA
Output
5
Clear to Send (CTS)
CB
Input

3. RS-232 connector for DCE mode

Pin #
DB25 Signal Name
RS-232C

Name

Signal

Direction

1
Chassis Ground (GND)
AA
Common
2
Receive Data (R x D)
BB
Input
3
Transmit Data (TxD)
BA
Output
4
Clear to Send (CTS)
CB
Input
5
Request to Send (RTS)
CA
Output

4. RS-422 connector for DTE mode

Pin #
DB25 Signal
Signal

Direction

2
Transmit Data (TxD+)
Output
3
Receive Data (TxD+)
Input
4
Request to Send (RTS+)
Output
5
Clear to Send (CTS+)
Input
14
Transmit Data (TxD-)
Output
15
Receive Data (TxD-))
Input
16
Request to Send (RTS-)
Output
17
Clear to Send (CTS-)
Input

5. RS-422 connector for DCE mode

Pin #
DB25 Signal
Signal

Direction

2
Receive Data (TxD+)
Input
3
Transmit Data (TxD+)
Output
4
Clear to Send (CTS+)
Input
5
Request to Send (RTS+)
Output
14
Receive Data (TxD-)
Input
15
Transmit Data (TxD-)
Output
16
Clear to Send (CTS-)
Input
17
Request to Send (RTS-)
Output

Order Information:

| | | |
| --- | --- | --- |
| No. | Description | Product Code |
| 14-1 | Fiber Optical/RS-232 Converter with RTS/CTS | AFIBERRS232/RTS/E/(U) |
| 14-2 | Fiber Optical/RS-232 Converter | AFIBERRS232/E/(U) |
| 14-3 | Fiber Optical/RS-422 Converter with RTS/CTS | AFIBERRS422/RTS/E/(U) |
| 14-4 | Fiber Optical/RS-422 Converter | AFIBERRS422/E/(U) |
---
MICRONICA
- Australian Distributor -
184 Napier Street, South Melbourne, 3205 Victoria, AUSTRALIA
Tel: (03) 96998844
>> Email Enquiry <<
---