G-Combo PS2, Composite Video and S-Video to VGA Converter allows Playstation and Video to be played on your VGA monitor screen.
AU$ 226 Export, AU$ 249 inc GST
Delivery: $9+gst Melbourne Metro, $17+gst Australia Wide, AU$50 World Wide
See also ATV-3000 Video to VGA Converter and TV Available NOW!

G-Combo allows Sony Playstation games to be played through a computer screen avoiding the need for a bulky television screen in the study or computer room. The result is space saving, less eye strain and improved picture clarity. And greater enjoyment of your playstation games without having to kick the family off the TV. The PC Monitor can still be used for normal applications and of course PC games as usual simply at the flick of a switch using the VGA pass through facility on the G-Combo.

But G-Combo is much more than just a game to VGA converter. It also features additional video inputs for composite and S-Video devices which you may want to convert to VGA signal and display on your high resolution PC VGA Monitor. So you can connect not only Playstation but also VCR, DVD player, camcorder and even Nintendo 64 or any other console games to the G-Combo, and play them through your computer monitor. Total versatility. And the picture benefits from enhanced clarity and crisp picture quality. Now your VGA monitor can be much more than just a display device for your PC !

The styling is specially designed to blend with the design of the Sony Playsations 2 and complement it perfectly. But the G-Combo connector is also compatible with traditional playstation. To make things really simple G-Combo will also automatically detect a NTSC and PAL signal and transfer it to your PC monitor automatically.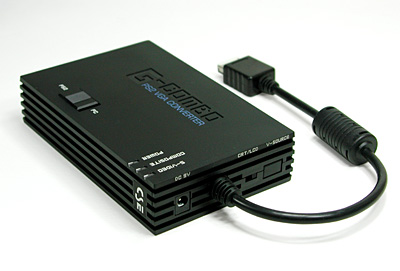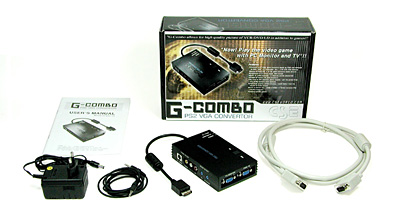 CONNECTION DIAGRAM:
FEATURES
Same design as Playstation 2 Hardware to complement PS2 beautifully in style.
No video drivers needed
Works with any PC system and VGA Monitor
Automatically detects NTSC/PAL composite video
Supports VGA in/out pass through
Supports Composite and S-VHS video input
Support Audio input/output
Note: Games using gun controller will not work with VGA monitors
Dimensions: 140 (D) mm x 90 (w) mm x 30 (H) mm