"Jumbuck 56K" Voice Modem
"The Jumbuck 56K continues to be great value for money" - PC World
Highest Raw Power Speed of all the Rockwell Modems Tested - Internet.au
The fastest and most stable 56K modem - Seednet
And Only $177 +GST !!
---
MICRONICA "Jumbuck 56K"

CLICK HERE for a Full Colour Picture
Brief Specs:

Rockwell High Performance 56K Kflex Chipset.


Flash ROM upgradable.

Handles V90 AND KFlex !

Simultaneous Voice and Data


VERY Easy to set up and get up and running. HOW easy ? Read this...
- "That modem is so HOT! Absolutely brilliant! Heaps better than my other one. Immediate speed improvement. And now my line does not drop out.-Greg N."
- "Thanks Ed. Worked perfectly under Windows 2000. Went straight on and worked right away. None of the problems of the B (big name brand) modem. Our customer was so impressed the are getting another one.-Alan"
- "Hi Edward! Thanks for the great modem. It took about 2 minutes to set up, and has made a very pleasing difference to my web browsing experience.-Brett J."
- "No problem. Took me about 3 minutes to set up. Easiest thing I ever did.-Richard J."
- "Really Good. So easy ! Didn't have to install all that unwanted garbage software like my other modem. And a very noticeable speed improvement, too.-Michael M."


Full duplex speakerphone design.


Microphone input.

PC World Magazine says this about Micronica "Jumbuck 56K"
"The 33.6K version of this modem established itself as the bargain performer in previous reviews. And as the cheapest in this roundup, the Jumbuck 56K has all the makings to do it again."

"The Jumbuck 56K is a full-fledged speakerphone with an external microphone included. It also sports a speaker jack to exploit this functionality"

"you can carry on a converstation over the same line you're using for a data link."

"spacey-looking"

"The Jumbuck 56K continues to be great value for money"

And no wonder. It was actually the lowest price 56K Modem out of all the nine modems tested !

Rated fastest and most stable 56K modem by Seednet, major Taiwan ISP.
Internet.au Magazine, Australia, found:

Highest Raw Power Speed of all the Rockwell Modems tested.


The Micronica Jumbuck never dropped out.


Very well priced and did the job admirably.


5 Star Top Rating for reliability !

"Raw Power Test" - Internet.au Magazine Review - CLICK for high resolution graph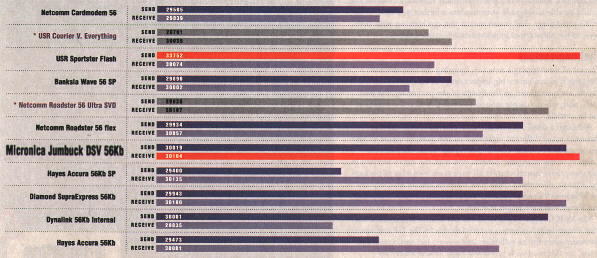 Comparison Summary - Internet.au Magazine Review


CLICK HERE for Downloads area
- Modem Drivers (Actually "Standard" Win95 driver works just fine !)
- Flash ROM upgrade for V90 and Kflex


HOW TO BUY ONE. It's quick and easy.

---
---