VGA to HDTV and TV Converter. With High Definition Component Video, Composite and S-Video Output.

AU$397 Export, AU$437 inc GST
Delivery: $12+gst Melbourne Metro, $18+gst Australia Wide, AU$50 World Wide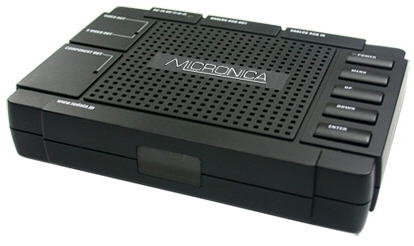 How do you know its GREAT ? Here are some typical independent testimonials.
* The image conversion from VGA to Video is excellent. The picture on the video display is really crisp and clear. Whilst all the other converter products are fuzzy this one is very clear. Definitely much better than any other converter product we have tried. Great product!
Don H.
* Picture quality is no problem. The unit works great with our large screen projectors in our Power Control and Monitoring Centres with good clarity. So we are getting another unit right away and then at least two more soon.
Ian W.
* The MC4000 is by far the best value for money VGA to CV converter I have ever used. Thanks again.
Edward D.
* It solved our aspect ratio problem. It displays the 16:9 aspect ratio on our laptop perfectly but even better than that, it can even change it from 16:9 to 4:3 simply at the press of a button on the converter. It does the job and we will definitely be buying more.
David T.
* All working well and I'm very happy with the result. I already have an external Speaker System attached to my Laptop and can now enjoy good reproduction of personal picture slide show on my TV plus i Tunes playing or my music videos from my hard drive.
Alan B.
* Very, very good in our security video application. So we are ordering more.
Daniel G., Brainjuice
* Tried out the MC4000 in our fairly large, distributed application, and it rocks! The on site technician was dubious about even trying this type of solution, having had other units that failed dismally when it came to reproducing text. This unit is really good. Text is sharp, even on large projection screens - we're all very impressed and I'll be ordering more
Cheers!
Sean B., CIS
* Device arrived this morning. Looks good, Huge improvement of other offerings in the market place and we will keep it.
Rohan G.

Micronica MC-4000 VGA to TV/HDTV High Definition Video, Component Video, Composite Video and S-Video Converter.
Allows you to connect your computer to a VCR, TV, High Definition TV or other devices that require a very high quality HDTV, component video, composite video or s-video connection.
MC-4000 is your best choice for professional PC to TV/HDTV Scan Converter. It accepts input VGA resolution up to 1600 x 1200 in 16.7 million-color depth. MC-4000 converts the computer image into TV and HDTV (High Definition TV) with finest quality, which is the most effective way of turning your PC into a wide screen TV. So Micronica MC-4000 is not just a VGA to TV Converter but also VGA to Component Video Converter!
MC-4000 offers powerful features such as, 64 Position Marks, 9-level Adaptive Flicker Control, Video Quality Enhancement, Linear Zoom-n-Pan and Infra Red Remote Control to provide crisper video image and user-friendly environments.

APPLICATION
Group presentations, gaming and any other application requiring large screen TV or Projector display. Also allows recording computer tutorial sessions directly to an ordinary VCR. The best tool for presentation, education, gaming, DVD and Internet Viewing.

FEATURES
Allows you to connect your computer to a TV or High Definition Video Display
Real time external PC to TV/HDTV Scan Converter
Supports HDTV D1 to D4 resolution
Supports Y Pb Pr (Component) video out to HDTV D-Type connector. D-Type to 3 x RCA Component Video adapter cable is included
Converts computer image into NTSC or PAL TV. Suitable for Australia and Internationally
Supports Composite Video, S-Video and Component Video out
Accepts VGA input resolution from 640x480 up to 1600x1200 in 16.7 million-color depth
Supports with IBM® compatible PCs and Laptop PCs (with VGA output port)
Stand alone box. Can be connected to desktop or laptop PC.
Plug-n-play pure hardware design. Needs no software
Totally driverless installation. No special VGA driver required.
Simultaneous display on PC Monitor and HDTV/TV
Full function infrared remote control included
Picture Freeze function by remote control button
Full screen Underscan / Overscan
9-level Adaptive Flicker Control adjustment
Video Quality Enhancement
Supports "Power Down Pass-Through" function when system is off (Between VGA and Monitor)
Supports OSD (On Screen Display) function
TV/HDTV Brightness, Contrast, and Sharpness control
Horizontal and Vertical frequencies detection to adjust picture position
Linear Zoom-n-Pan function
Save settings during power-off
64 Position Marks to save after Zooming and Panning
1:1 A/D (Analog to Digital) frame rate Sampling
Works with IBM PC AND Apple Mac PC !!
SPECIFICATIONS
Input Signal:
- VGA Horizontal Frequency: 31.5KHz-80KHz
- Vertical Frequency: 50Hz-150Hz
- Vertical lines: 1200 lines

Output Signal:
(1) Composite Video (AV) – NTSC/PAL
(2) S-Video - NTSC/PAL
(3) Y Pb Pr (Component) / 480i(D1)
(4) Y Pb Pr (Component) / 480P(D2)
(5) Y Pb Pr (Component) / 1080i(D3)
(6) Y Pb Pr (Component) / 720P(D4)
(7) VGA Computer Monitor

CONNECTION DIAGRAM (CLICK for Larger Picture)
USEFUL INFORMATION AND HELP
CLICK HERE for FAQ and other Useful Hints