Internet and network connections are being popular, advertiser can make use of internet connection to update the commercial media file of each Digital Signage/ POP (Point of Purchase) Display.
In our old practices (stand-alone type POP display), it's necessary to send staff to each retailing store for updating each POP Display's media file contents regularly. This procedure creates huge labor cost and expenses.
Micronica network player MIC-02SD provides a total solution for advertiser.
All MIC-02SD are connected with control center and media file server.

Key Features

*Scheduling:
each MIC-02SD would automatically download new media files from media file server and delete old contents.
*Network Connections:
all procedures are processed through LAN/ Wifi network.
*RTC & WDT:
with RTC (Real Time Clock) and WDT (Watch Dog Timer) functions, MIC-02SD can process file download in background and file playback in foreground at the same time.
*Scrolling Message:
supports text file for scrolling text playback as emergency/ advertising message
*Splitting Screen:
provides 3 different splitting screen layout. MIC-02SD could show video/ still picture and scrolling messages on a same screen.
*Various Output Interfaces:
MIC-02SD provides AV, SV, VGA, Component (YPbPr) and SCART video output
*High Definition Video Playback:
supports HDWMV video, output resolution up to 720p or 1080i

Interfaces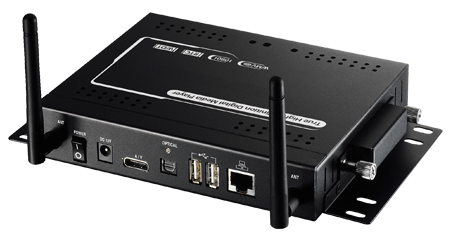 Back View (from left to right):
Wifi antenna (optional feature), power switch, DC12V power input, multi A/V (Composite/ S-video/ SCART/ VGA/ YPbPr) output, optical audio output, USB host input, RJ45 (IEEE 802.3 Ethernet)

MIC-02SD is also available in stand-alone PCB format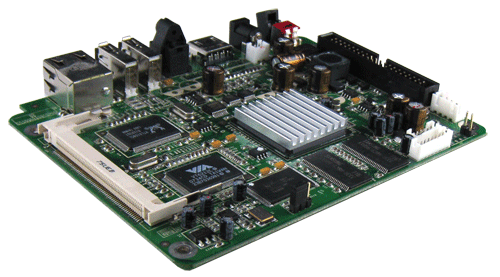 MIC-02SD Main PCB
Optional PCBs:


Compact Flash + IDE Hard Drive socket module Wifi Adapter module


MIC-02SD Specifications

Bridge Chipset

Sigma Design 8621

Case Material

Metal frame or PCB only

Supported Storage(s)

Compact Flash I/ II2.5" hard disk (IDE interface)

Playback Formats

Video

:
MPEG-1, MPEG-2, MPEG-4, WMV9/ HDWMV (up to 1080i), ISO


Audio

:
WAV, MP3, WMA, AC3, OGG


Photo

:
JPG

Supported USB devices

Mass Storage class devices using FAT12, FAT16 or FAT32, including USB hard drives, card readers and USB memory sticks. Note: USB hubs are not supported!

Input Interface

USB 2.0 High Speed (USB1.1 backwards compatible) x 2
Ethernet 10-baseT/100-baseT x 1
Compact Flash I/ II x 1

Output Interfaces

Multi-AV output x 1


(Composite Video/ S-Video Analog Component Video up to 720p and 1080i)
SCART RGB (optional accessory)
VGA up to 1024x768 (optional accessory)


Audio output

:
Dual Stereo Analog Audio
SPDIF optical output x 1

Network Interfaces

LAN: Ethernet 10-baseT/100-baseT x 1
WIFI: built-in Wifi adapter, 802.11g (optional)

RTC (Real Time Clock)

Built-in RTC, for controlling system clock, power On/ Off and media files download time

WDT (Watch Dog Timer)

WDT enables the unit to download update media file(s) on background and playback media files on foreground

Other Features

.Scrolling text function for showing emergency/ promotional messages
.Scheduling function for power On/ Off time, media file(s) playback schedule, download schedule
.Streaming function, searching and playback media files from any PC under same route network
.Video splitting function, 3 different splitting screen format, for media file playback and scrolling text on same screen

Power Supply

.External Power Adapter universal auto-switching
.Input: AC 100-240V, 1.2A, 50-60Hz
.Output: DC +12V/2A

Product Dimensions

.22cm

x 17.2cm x 3.4cm (with metal cover)
.14.0cm x 11.0cm x 1.5cm (PCB only)

Standard Contents

.MIC-02SD x 1
.Infrared remote control x 1
.Power adapter x 1
.AV cable x 1
.VGA cable x 1
.Fixing device

Optional Accessories

.Component cable
.S-video cable
.SCART cable
.Compact Flash

Safety Approvals

.CE, RoHS, FCC
MIC-02SD Network Connections