Genlock Mixer with VGA and Composite Video Inputs.
AU$485 Export, AU$534 inc GST
Delivery: $14+ Melbourne Metro, $20+ Australia Wide Overnight, AU$50 World Wide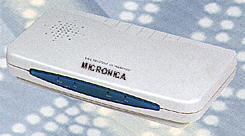 Genlock GVM-3370 Allows you to mix the signal from your computer's VGA output with a Composite or S-Video Video signal. The combined signal output is provided as both Composite and S-Video formats.
The Micronica GVM-3370 can also be used to simply convert PC or Mac VGA output to standard analog Composite or S-Video video. A Computer Monitor Loop-through cable is provided so that the computer display continues to work as usual. Convert anything on your computer screen for viewing on a TV set or record the video on a VCR. Mix titles and graphics to the external Composite and S-Video video signals. Ideal for Corporate presentations, Medical applications and our most popular product for Church Organisations who want to overlay Computer text such as song lyrics with regular Video.

How do you know its GREAT ? Here are some typical independent testimonials.
* Hi Ed,
Earlier this year we bought a GVM3370 Overlay Genlock from you guys. It has been fantastic and I could not believe how well it works for the price.
Regards, Trent Y., B.B. Christian Church
* Ed,
The unit arrived yesterday. Works better than expected. Thanks very much for sending it quickly. I'm demoing it this morning to my customer (with my software), so I'll probably contact you soon about ordering more.
Thanks
Andrew S.
* I bought the video overlay from you guys a year ago it is amazing. I recommend it A1+. Its an awesome attachment to your worship services. We love you guys
George, P.Praise Australia
* I'm really happy with the quality of the overlaid signal.
Chris G.
* We fired up the GVM-3370 with composite (PAL) video and in house generated overlay. Lo and behold we have a video image with flicker free overlayed graphics from our PC. The GVM-3370 is equal to a unit we have been using (UK manufactured) but at half of the price. Support does not stop after the product is delivered and we really appreciate that.
Best regards,
Glen B.


APPLICATION
- Put PC Text Overlay over Composite Video Signal from, say a VCR or other video source.
- Superimpose Overlay PC Image onto video.
- Education and business presentation.
- Great for titling your movies !
- Add text and graphic to your home or corporate video.
- Overlay Song Lyrics from your PC or Mac with regular Video Signal.
- Create your own Karaoke Video with Lyrics using your PC and Video.
- Or just enjoy PC games, PC Movies and internet on TV.

FEATURES
Converts VGA modes 1600x1200, 1280x1024, 1024x768, 800x600, 640x480 into NTSC or PAL or SECAM. Then mix or key with another video.
Plug-and-play design, no software drivers required.
Cross-platform compatibility for PC, Macintosh and Notebook.
Video Input:
- NTSC/PAL/SECAM
- Composite Video
- S-Video.
VGA Input:
- Supports VGA resolution 640x480 85Hz-1600x1200 60Hz.
Outputs:
- Composite Video
- S-Video
- Computer Monitor VGA Passthrough
Output Format PAL/NTSC/SECAM.
Supports Overlay, Mixer, VGA and Video Modes.
Overlay the PC image on live video.
Selectable Red, Black, Blue or Green Chromakey background colour.
Mixes VGA and Composite or S-Video Video Signal.
24 Bit signal processing for excellent colour depth.
Vertical and horizontal overscan/underscan control.
Zoom & Pan control.
Freeze control.
Simultaneous PC display on PC and TV monitor.
S-Video Bandwidth: 5.5 MHz.
Power: 5 Volt DC, 2.6 Amp.
Dimensions: 236mm(W) x 130mm(D) x 45mm (H).
Weight: 0.6 Kg
Can be controlled from the front panel, RS-232 or IR remote control
Infra-red remote control included !
Easy to use.